Tweet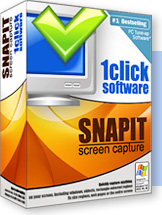 Snap-It is a full-featured screen capturing utility. Snap-It features the ability to scroll and capture long Web pages, as well as capture Web pages as visual bookmarks with descriptions. It includes a thumbnail viewer with three possible sizes, a versatile special-effects editor, and the ability to instantly attach any captured image to your e-mail messages. You can capture BMP, GIF, JPG, PCX, PNG, TGA, and TIF images and convert between them, as well as copy any image to the Clipboard. You can paste any captured image to the cursor in Microsoft Word (97 or 2000) with a single mouse click. Snap-It also enables you to print your full-sized images as well as thumbnails. The program also runs as a convenient icon in the System Tray area of the Windows Taskbar


Minimal system requirements:


Microsoft Windows 95/98/ME/NT/XP/2000/2003/Vista
installed and configured on your system.

Microsoft Framework 2.0
As the Summary of the software says, this software is excellent software for the corporate as well as the common masses as it deals with an important part of our everyday computing. Every now and then we find the need to save the current screen for reference in a future time period but often fail to do so as it is a complicated process trying to do it manually using "
Paint
":. On the other hand this software eases that process by simply reducing it to a click and drag system where we can choose exactly how much of the screen we want as an image file. So in a way this software also eases the editing process.
To Download the Software visit
SnapIt Screen Capture
.
This is the rating(out of
5
) I would give to this software:-
•
User friendly
_
_
_-
:
•
Appearance
___
--
:
•
Ease of Use
_
_
__-
:
•
Value For Money
-
:
•
Overall Rating
_
_-
:
This Software Review has been prepared by our Reviewer, Shamik.